Graftel and Dynamic Rubber Maintain a Nuclear Power QA Program that works to Appendix B, Part 21 and we are currently working towards ISO registration.
Inflatable Bladders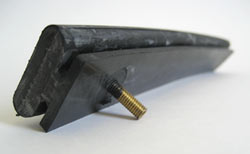 Lifting Bladders Etc... Related Applications

Inflatable seals or air bladders can be used for clamping, lifting or handling sensitive parts.
Pneumatic Grippers

A soft grip supplied by the inflation of the rubber is ideal when handling sensitive parts such as sand cores, glass, or other brittle materials.
Inflatable bladders are generally employed to either lift, push, or grip an object during operation. Pneumatically operated at pressures up to 25psi, we have several standard profiles and sizes, including various air fittings required to inflate them.
Typical uses for our bladders include:

RFID Doors
Conveyor Stops & Bumpers
Pneumatic Actuators
Doctor Blades
Door Seals
Lamination processes such as wood or aircraft frame




Typical Air Connections Include:

1/8" & ¼" NPT fittings – in 1.5" and 2" lengths
1/8" ID x ¼" OD & ¼" x ½" OD flexible tubes
Schrader style (bicycle or auto) valves in various lengths.
Braided and reinforced air lines ¼" ID x ½" OD