Dynamic Rubber, Inc. specializing in hard to seal applications by utilizing rubber inflatable seals to pressurize the sealing space. Industrial applications range from Medical applications to Nuclear Power plant operations. We supply rubber and plastic extrusions, calendared rubber, foam rubber, and molded components. There is no job too small or too large.
Many of the inflatable seals we manufacture are for custom applications or can be adapted to existing standard inflatable seal requirements. DRI also supplies high volume molded components such as o-rings and vibration dampers. Please see Molded Rubber. In addition we offer ancillary equipment for inflatable seals such as valves, line tubing, regulators, and adaptors.

Overview all shapes and sizes click left picture
Featured Products
Inflatable Garage Door Seal. Keeps the cold and elements out: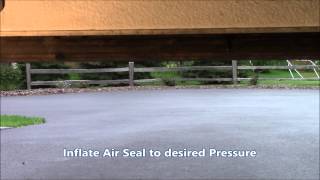 Click picture for video
Purchase at www.garagedoorairseal.com
Conveyor Stops and Material Handling Applications. Click on Picture for further Information.