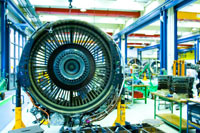 Aerospace – Composite molding, Rubber Seals and Inflatable Canopy Seals
Hatches and doors in small private aircraft are well known to be loud and prone to wind noise. An inflatable seal around the door frame or canopy provides a continuous seal during flight. When in operation, the inflatable seal is pressurized by a small electrical pump, noise and wind levels are greatly reduced creating a more comfortable environment.
This same technology is applied in military aircraft around the canopy of the aircraft to create a continuous seal under stressful and vibrating conditions. Quality controls and high performance materials ensure a long and failure free lifetime operation of the seal.
Advanced molding techniques, complex precision extrusion capabilities, and a wide variety of materials allow us to manufacture inflatable seals for the most demanding aviation applications.
Material and Seal Profile Selection
Seal Selection – to properly select an inflatable seal or gasket for your aviation application, please contact DRI to ensure proper sealing properties and profile selection. If you are currently using an inflatable seal in your aircraft, DRI can help you design a replacement that will work seamlessly with your current design.
Material Selection – certain aircraft doors and hatches endure wide temperature changes in conjunction with oils, fuels, and chemicals. The proper material is a critical factor in determining the durability and life of the seal. Please visit our Materials page for more information about chemical resistance and temperature ratings.