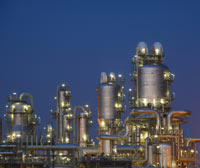 DRI has developed several inflatable sealing solutions for fluid bed dryers made from FKM and silicone to withstand both high temperatures and chemical caustics.
For fluid bed dryers, Dynamic Rubber offers standard and custom inflatable seal solutions for both chemical processing and pharmaceutical processing equipment to withstand high explosion and operating pressures. Depending on the application and equipment, we have several standard profiles for different types of fluid bed dryers that will change over seamlessly into your existing equipment. In all cases, we adhere to and supply certification documents to meet FDA sanitation requirements for either chemical or pharmaceutical processing requirements.
Most DRI applications for the chemical processing industry are for custom applications or OEM parts replacements. If you're looking to reduce your overall costs from OEM suppliers, DRI offers a great competitive advantage for both inflatable seals and bladders or standard rubber parts.
Certificates of material compliance and CFR & FDA regulations can be provided for all applications.
Refineries – Fuel and Oil
Our inflatable seals are currently in use in several refining and processing plants for hydrocarbon and gas products. Our inflatable seals are used widely to test pipes, seal exhaust vents, and assist in vapor recovery during product transfer at tanker filling stations.
With custom mixing and compound formulation, DRI can supply the right compound to withstand the harshest fuel and oil environments. Please consult a DRI engineer to find out what compound will work best for you.