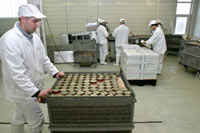 Food Processing Mixers and Smokehouses commonly use inflatable seals on their doors to effectively seal against product loss and smoke fumes. DRI supplies food grade rubber products that will conform to FDA requirements.
Note: DRI offers smokehouse seals or stand alone extrusions.

Smokehouse Seals
DRI manufactures several inflatable gaskets that will fit existing smokehouse doors.
We have several popular styles and sizes and supply either the stand alone extrusion, or complete seals for easy installation. Our smokehouse seals are available in EPDM, high temperature silicone and oil resistant neoprene.
With our seals, customers have attained better sealing and operation, especially in the difficult to seal corners of most smokehouse ovens.