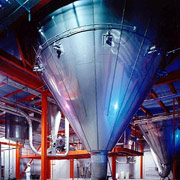 Pharmaceutical Processing Equipment
Inflatable seals are used in a variety of processes including drying, mixing, distribution, etc. Dynamic Rubber can supply direct replacements for OEM equipment at a fraction of the costs.
Dynamic Rubber has various replacement parts for Fluid bed dryers in various elastomers.  Silicone and Flourosilicone are two of the main elastomers used in these applications.  All materials are FDA approved.