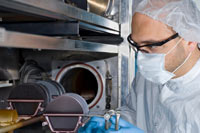 Semiconductor Processing Equipment
Inflatable seals provide design simplifications for processing equipment as well as effective solutions for testing equipment. Typical applications include wafer processing machines, CMP, clean rooms, and filters can be used in circuit board imaging applications.
Actuators
CMP
Door Seals
Filters
Lithograph
Optics
Robotics
Washers
Inflatable Seals & Molded Rubber Components
The semiconductor industry relies on a competitive advantage. DRI offers competitive quality products to supply special seals and molded components to suit demanding conditions. Low outgassing materials, heat treating, as well as cryogenic deflashing procedures all help to reduce particle matter contamination. DRI uses quality fluorocarbon (FKM) materials for high chemical and heat resistance. Other materials such as EPDM, Neoprene, and Silicone are also available.