Valves & Regulators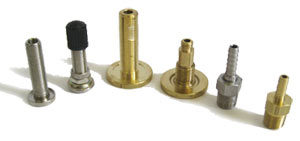 DRI will supply the necessary valves and ancillary products for your inflatable seal application. Choosing the right air connectors and regulators will be a factor in making sure that your inflatable seals and bladders function properly.
Note: All inflatable seals require a regulated supply of air or liquid. Please consult a Dynamic Rubber sales representative or our product literature for more information about pressure regulation.
Air Line Tubing
We offer several standard types of valves, air connectors, and adaptors. We can also adapt to a custom valve application for very difficult or complex fittings. You will also have to make sure you select the proper valve and location of the valve on your inflatable seal.
Standard Available Valve Selection and Types
Tubing – Molded into the seal
1/8″ OD X 1/16″ ID   Tubing can be made any length and can be supplied with a barb connection
1/4″ OD X 1/8″ ID
3/8″ OD X 3/16″ ID
1/2″ OD X 1/4″ ID
Note: These are just a small selection of our standard valves.  Please consult DRI for any custom valves that are required
Metal To Rubber
A metal valve is molded into the base or end of the seal. We can adapt a rubber hose or fabric reinforced hose to fit the valve.
Molded in NPT valve

Bolt in Valve